You know… at a certain point, writing about learning to code becomes repetitive – you try to learn something new, you can't figure it out, you question whether you're cut out for it, you throw your computer out the window, bang your head against the wall, tell yourself 'well, maybe if I…'. And just like that, the cycle begins once more. Rinse, repeat!
There's only so much I could write about my frustrations without turning LegPress into a keepsafe for my misery. And so, I distanced myself, and continued to push through the learning process without using our blog as a form of stress relief.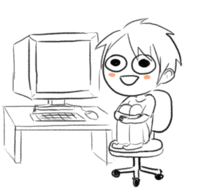 Three weeks ago, I was called into Lee's office. Coming off the back of a turbulent few weeks office-wide (sick family members, pet emergencies, debilitating sickness… you name it, the agency saw it), I wasn't sure what to expect. As a natural worrier, I'd forced myself into believing it would be bad news; there's that trusty pessimism again!
In reality though, I received the best news I could've hoped for, and it came at the perfect time – right before I fell into my usual habit of over-committing and depriving myself of sleep.
I'm now (officially) LegRoom's newest Junior Developer, wrapping up my first week on the job. I'm filled with so much passion and gratitude for not only the opportunity, but the experience of those surrounding me.
I've loved every minute of it, which is quite a feat for someone who once swore off agency life and full-time work, thinking that the freelance life was just too good to give up. I can't tell you how much I've felt like a zombie over the last six months or so – what once felt like a glamourous freelance lifestyle quickly turned into an ongoing state of stress… the joys of not being able to say no, huh!
But, throughout the perils of freelancing, LegRoom has been my saving grace. It's amazing to think about how much I've learned in only a week, and how much more I have to learn as I work on more projects and immerse myself in more languages. Intimidating, but amazing.
I'm lucky to work alongside such a talented team, and under a boss who truly believes in progression and giving staff a chance – it's not everyday you're awarded the opportunity to learn on the job, solely because your boss has faith in your ability to succeed based on your passion, and ability to write on varying dev-related topics. Very, very lucky! And I couldn't be happier.
I'll be tweeting more about my journey over on my personal Twitter (@murphytrueman) – let's share our experiences and chat all things dev!